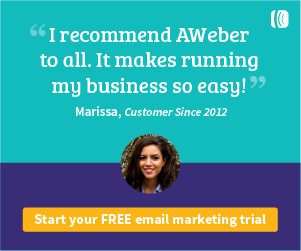 Email marketing services can help a business grow significantly. If you choose the wrong service however, you will end up spending all your time in fighting the problems and not being able to do much of the marketing or realize the business growth that you expected. I consider myself fortunate that I have been associated with Aweber email service provider for over 10 years now. Ever since I started my first website in 2007, I have used Aweber. Recently I spoke with someone at Aweber and I realized that perhaps my experience will help other business owners in their goal of communicating with, and nurturing their own customers via email. So I wrote up my Aweber review to help all you guys out there wondering whether or not Aweber will work for you
Why Email Marketing?
As a business owner, your primarily goals are:
Get leads,
Communicate your value proposition to your leads and help them understand how your product or service meets their needs, and,
Once they are your customer, provide after-sale customer services, or as in my case, service delivery
Aweber gives me a platform to achieve all these goals with efficiency and a secure knowledge that things will work as expected close to 100% of the time.
Email marketing is not just for online businesses anymore. Any business that wants to communicate with its customers and potential customers, and every business does, needs email marketing. Email has proven to be the channel that continues to deliver the greatest ROI of all other marketing channels, so ignoring email marketing is not an option.
According to one study, email marketing generates a 40:1 ROI. Ignore this channel at your own peril.
Aweber helps me achieve the 3 goals very well.
How Aweber Helps Me with My Business Goals?
I started with using the subscription forms that Aweber provides their customers. A simple piece of javascript lets you post these subscription boxes on your website whereever you wish. They also allow you to test out different formats via split testing so you can choose the forms that work the best.
However, the full power of Aweber's lead generation capablities come to fore when you use the API and connect it to another software that is custom made for lead generation.
In my case, I use Thrive Leads and connect it to Aweber lists. The connection is seamless and everything just works.
As interested people sign up, I am able to send them the information they are most interested in. In my case, it is information about the value stocks and opportunities in the stock market. Since a large part of my audience is a business owner, business and entrepreneurship related articles are very relevant to the audience (including this article). These emails not only serve the needs of my audience, but it also helps them engage with my service and when they feel the time is right, they can choose to purchase my books or membership.
And finally, my stock recommendations, transaction advices and alerts and the member newsletter are all delivered by email.
Aweber does it all for me.
What about the Competing Email Services?
Few years ago I moved some of my lists to a competing service, ConvertKit. I had heard some good things about them, and they offered a way to split test email messages and subject lines, that Aweber at that time did not offer. I used ConvertKit for a few months and the results were disastrous.
Some people find ConvertKit very intuitive. I did not.
They use a different way of organizing email addresses and sending messages. They tag everything. This works well if you have a small number of tags and the message flow is simple, but with a little bit of complexity in your business, the email management becomes quite cumbersome. After a while, I pretty much did not know what I was doing. Customer service, while good, did not help me much in figuring out the system.
And the split testing feature? Turns out you can only test 2 messages at a time. If you want to test 3 or more subject lines, for example, you are out of luck.
To be fair, there are countless number of users that absolutely love ConvertKit. I, however, opted to switch back to Aweber after a few months.
Aweber Customer Service Can't be Beat
The person I spoke with recently at Aweber asked me: "What do you like best about Aweber?"
Without any hesitation I said "Customer Service".
They are uber responsive on the email – I get answers to most of my email questions within 2-3 hours. If I have a problem, I get a resolution quickly. I inquired about the split testing messages functionality, and they told me they were working on it. When they were ready to launch, they remembered I had asked for it, and they emailed me to ask if I wanted to beta test the split test feature. I said yes and I worked directly with their tech team to beta test and provided my feedback.
At other times, I have come to them with requests or "issues" and they have always come back to me with a resolution, work around or a suggestion to how I can improve my flow by doing things differently.
Is Aweber Effective?
Absolutely.
Majority of my membership has initially come to me via search engines or other channels and then stayed with me connected with the Aweber serviced emails. Much like you may be doing now. Over time they come to know me better and purchased my books or became a premium member.
Ultimately the proof is in the pudding and Aweber has helped me grow the service reliably and consistently.
Looking for an Email Service Provider? You Should Try Aweber Today
You will find that email services become more expensive as your email list grows. Aweber has been very affordable since the day I signed up with them. Their features and benefits are second to none, and the exemplary customer services makes them a "no-brainer" choice. However, you don't know until you try.
So give them a try. Learn more about using Aweber and take them for a test drive today by signing up below.